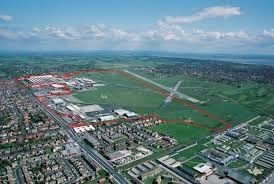 Posted On
Blackpool Airport is proud to be at the heart of the 144-hectare Blackpool Airport Enterprise Zone - a thriving hub for commercial businesses in the gateway to the northwest and serving Britain's Energy Coast.
With a thriving history in aviation engineering and a bright future in a diversified range of businesses both connected to airport operations and benefiting from proximity to it, the Enterprise Zone is only five minutes from the end of the M55 motorway, offering easy and fast access for commercial organisations.
One of Blackpool Airport's key services is facilitating helicopter services to key energy generation sites in the Irish Sea. The Enterprise Zone site's proximity to Britain's Energy Coast means it is home to the newly opened £12 million Lancashire Energy HQ, which is also a training base for the energy sector.
For businesses keen to locate their operations within the Enterprise Zone, the site already hosts a range of commercial premises, allowing businesses to move on-site in a short time frame, but also includes a range of development plots and redevelopment opportunities across numerous ownerships, encouraging competitive pricing. Business Rates Relief (of up to £275,000 over five years) as well as Enhanced Capital Allowances are available.
Please contact the Enterprise Zone team to find out more.
Back To News